Don't Get Left in the Dark
Switch to Sunpower® Solar With SunVault™ Storage
Home Pro, Professional Home Improvement, Inc. installs the SunPower® SunVault™ Storage System. It's a great way for Bay Area homeowners to better utilize solar system production, save money and keep prolonged PG&E outages from leaving them in the dark. A home battery is used to store and shift power usage to times when more is consumed and utility prices are at their peak, reducing high-cost energy bills from the utility.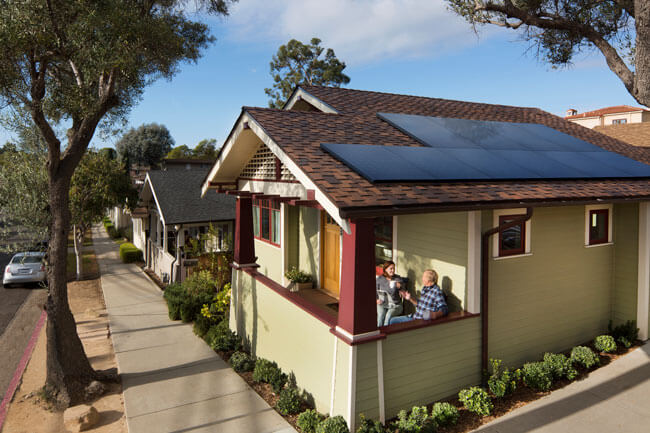 One of the biggest anxieties that potential and existing solar customers have is the fear of suddenly losing power when the sun goes down. On their own, solar panels have no method of storing energy for later use. There's no need to worry about lost power when you have a SunVault™ battery back-up system!
Benefits of Installing the Sunpower® Sunvault™
Keep your lights on with solar and battery storage, even when PG&E's grid fails or a planned blackout occurs. With the SunVault Storage System, you store electricity and back-up critical loads such as your refrigerator, lights and other essential features, all while keeping your solar energy system operating and producing power.
Protect yourself against high energy costs by storing/using electricity produced by your solar energy system at any time of day, avoiding time-of-use rate increases.
Produce your own energy so you are not relying on the utility grid to power your home. Solar is a renewable resource that generates clean, green energy for your home. Help the planet (and your bank account) by switching to solar.
In optimal conditions and when paired with the efficient panels of the SunPower Equinox system, the SunVault™ can store enough solar energy to power your entire home for more than three continuous days. With SunVault's easy-to-use app, you can control when and how that backup energy is used.
Contact Home Pro Today!
We're confident Home Pro, Professional Home Improvement, Inc. is the right contractor for you. We would be pleased to offer an estimate for your solar project. Call (800) 650-3134 or fill out the online form to schedule an appointment.
Now anyone can create their home's
Solar Design
See your home's solar design and savings in less than a minute.