The Sunpower® Solar Advantage
Solar Panels That Do More With Less
Home Pro, Professional Home Improvement, Inc. proudly installs SunPower® photovoltaic panels, the most advanced and efficient photovoltaic panels on the market. If you are looking for the best performance, aesthetics, longevity and service in the solar industry, go with SunPower. The company has been a leader in high-power technology and innovations for 35 years, making them a powerhouse in the renewable energy industry.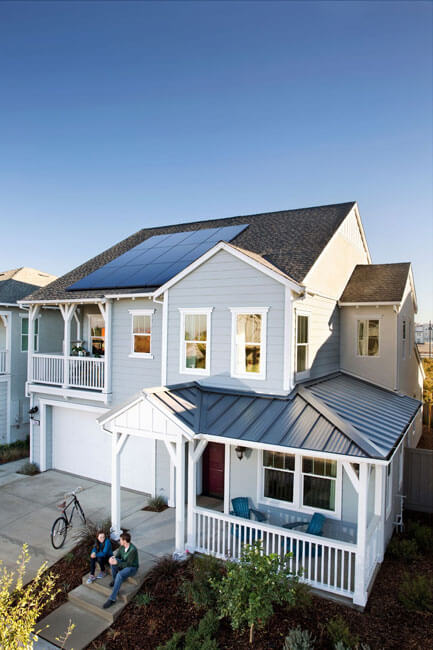 SunPower solar panels have a record-setting 22.8% panel efficiency, produce more energy with less roof space and come with a 25-year warranty.
Introducing the SunPower® Equinox™
The SunPower Equinox system is the only complete home solar system that is designed and built by one company. From the highest efficiency panels to Smart Energy software, every component is engineered to work together perfectly – from sun to switch. A big advantage: you can contact one company for all system services.
Conventional Home Solar vs. the Sunpower® Equinox® System
Conventional home solar:
Is built with components from multiple brands and manufacturers, each with its own warranty.
Requires more solar panels, typically spanning multiple sides to meet energy needs.
Has separate inverters, requiring more utility boxes that add clutter to exterior walls.
May not be compatible with energy storage or may require a large, bulky installation.
The Sunpower® Equinox® system:
Generates more power in less space with fewer visible parts for a minimalist design.
Eliminates unnecessary hardware and utility boxes on exterior walls.
Easily adds energy storage to provide backup power during outages and to help reduce peak-time charges.
Is backed by the industry's only complete-system 25-year warranty, which covers product, production, and service (replacement, shipping, and installation). A 10-year workmanship warranty is also available, for qualified contracts.
Contact Home Pro Today!
Get the Sunpower® advantage! Call Home Pro, Professional Home Improvement, Inc. at (800) 650-3134 or fill out the online form to schedule an appointment. Ask us about our purchase and lease options too.
Now anyone can create their home's
Solar Design
See your home's solar design and savings in less than a minute.